---
Click here to Email Wild Bill and text or voicemail him at 702-773-5809
For quickest response TEXT ME NOW AT 702-773-5809
Join WILD BILL on FACEBOOK. ** Search For the name Wild Bill Cooksey
Send ALL Email to vegaschamp@yahoo..com
To assure email delivery send a copy also to onlylasvegas@yahoo.com

---
---
I'LL CLIMB THAT
MOUNTAIN
by Wild Bill Cooksey

This Video Has The Original Version Of The Song In The Background. But In The Player Below You Get To Hear The 30 Year Update Version With The Very Special Second Verse That I Could Only Write After I Understood What The Whole Event Had Been About! Don't Miss That Second Verse....And Keep On Climbing To The Top!
Or Click Here To Watch This Video On The YOU TUBE website
CLICK HERE To Play The Audio On Windows Media Or Right Click To Download The Original 1976 Version Of The Mt. Song As Recorded In The Studio And Was Included As A Bonus Insert With All Those Who Received Copies Of The First Printing Of The "I'll Climb That Mountain" Book.
---
---
This Video Has The Lyrics And Music To The 2007 Version Of The Mt. Song, Including The New Second Verse.

Here Is The 2007 Audio Version With The New Verse Added:

If The Player Does Not Immediately Begin When You Click On The Button, JUST CLICK ON THE WORD "DETAILS" At The Bottom Of The Player Icon." Then The Song Will Play ASAP In A New Window. And When You Click Back To This Page, This Player Should Have The Song Loaded Up To Play.
---
I'LL CLIMB THAT
MOUNTAIN
by Wild Bill Cooksey

TABLE OF CONTENTS


This is the story of a man, a dream, a world record, a lesson of life and a song written many years before the writer truly understood what the words really meant.

"I'll Climb That Mountain"
Lyrics and Music by Wild Bill Cooksey

Verse:
Sittin' Here Again Feelin' Sorry For Myself
When Others Have A Greater Need
I Should Be Thankful For The Talents God's Granted Me
And A Willingness To Succeed
Sometimes Everything Just Seems To Go Wrong
It's Natural To Want To Give In
But You Can Solve Any Problem Big Or Small
Just Find A Place To Begin

Chorus:
I'll Climb That Mountain
I'll Make It Someday
Even Tho' I May Stumble and Fall
Somewhere Along The Way
I'll Never Stop
Til I Reach The Top
Hold My Head Up In The Clouds And Say
"Thank You, Jesus, For Helping Me To Climb That Mountain Yesterday!"

Click This Link To Hear The 1976 Version Of The Song Wild Bill Wrote For A TV Documentary About How 20 Years Earlier He Had Been Told By Doctors That He Would NEVER Walk Again. Note The 1976 Version Did Not Include The New Second Verse Added In 2007. It Took That Long For The Songwriter To Understand The Complete Message Of The Song.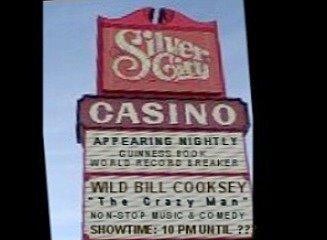 Enough said......Now be my guest and enjoy the story that led to the writing of the song and the book......Share it with a friend who likes to laugh and cry!
INTRODUCTION

EPILOGUE
Thank You, Calvin
WILD BILL WOULD LOVE TO HEAR FROM YOU!

MAYBE YOU WERE THERE AT THE SILVER CITY CASINO THE DAY HE BROKE THE WORLD RECORD?!?!

OR DID YOU SEE HIM IN CONCERT IN ANOTHER CITY? SURELY, YOU DIDN'T MISS THE SPECIAL THAT THE VH1 TV CREW FILMED IN VEGAS AT SILVER CITY ON THE TWENTY-FIFTH ANNIVERSARY OF THE BIG EVENT?

EMAIL HIM TODAY AND GET INVITED TO THE FIFTIETH REUNION PARTY
.......WHERE ELSE?.....LAS VEGAS, OF COURSE!...
CONTACT HIM TODAY!


Email: Contact Wild Bill By Email Right Here

CLick Here For WILD BILL'S 20TH CENTURY BIO plus a little more

Click Here to SEE WILD BILL'S ON STAGE ACT plus all the Rock and Roll Hall of Fame Members and other celebrities Cooksey has performed with in concert. Yes, Wild Bill is still out there kicking down new doors, reaching new audiences with his talents and even recording new songs that have gained international fame.

Oh, yes. Can you believe that I found out 18 years later a musical group had recorded my song and had been singing it to thousands of people who did not know me from my Vegas stage act in hundreds of audiences EVERY year since 1977? Click here to read the Rest Of The Story