In Order To Win, You Will Have Only One Opportunity To Say The Words In This Headline Of The Hour Exactly As They Appear Below :
---
---
---
MAYOR TOUGH ON TAGGERS!
*IT'S VEGAS BABY!*
BUT DON'T PAINT THE TOWN!
---
---
---
DESPITE NATIONAL NEWS MEDIA QUESTIONING SOME OF OUR ILLUSTRIOUS MAYOR'S RECENT COMMENTS, THE VEGAS WATCHDOG DAILY NEWS APPLAUDS HIS HONOR, MAYOR OSCAR GOODMAN, FOR STANDING UP FOR WHAT HE BELIEVES WILL BE IN THE BEST INTEREST OF THOSE OF US WHO LIVE IN THE LAS VEGAS VALLEY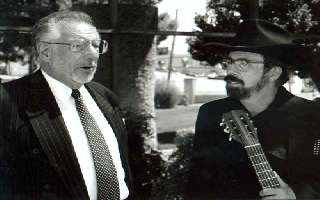 SPOTLIGHT ON
THE VEGAS WATCHDOG HALL OF FAME AWARD-WINNING MAYOR
GET READY FOR "W . W . O . S. N. ?"
What Will Oscar Say Next ?
"VEGAS TOP DOG & VEGAS WATCHDOG"

Up at the top of this section you can see His Honor, the Mayor of Las Vegas, being interviewed by the Vegas Watchdog Daily News Editor, Wild Bill Cooksey, at Channel 8 during a special segment filmed by the New York VH1-TV Crew to let the world know that Las Vegas is the Greatest City on the Planet! The Mayor Has Enjoyed A Fantastic Career As The Top Attorney Of The City And As A Well-Recognized Actor In Movies And Television. His General Public Quotes Are Profound And Yet Show He Is Not Afraid To Speak His Mind, No Matter What Anyone Else Thinks!
Those recent quotes about how he would handle the spray paint taggers who ruin the landscape of our fair city aroused the national media. Yes, it may be a bit radical to offer the punishment of removing the thumb of those who are caught doing the dirty deed. But nothing that has been done in the past seems to have any effect on these so-called artists deciding to find an alternative canvas for their talents. At least Oscar was able to get the national attention and maybe a few other shady types will think twice before moving here to try and conduct more scams and criminal behavior. I mean, if payback for an inconsiderate artist is to leave him with nine fingers, maybe other criminals headed this way will wonder what ole Oscar would recommend for bank robbery or scamming a senior citizen. Even the johns who readily come here to solicit favors from working girls right out on the street should consider what kind of penalty The Mayor's creative mind might think appropriate for breaking the law in that manner. But we better not go there at this time.
There is no question that in all of the 100 years of Las Vegas' Glowing History there has never been a Mayor as exciting and productive as Oscar Goodman. Let's hope that the city council votes in a new ruling to allow the same person to run for Mayor without any time limits. Bravo, King Oscar!
Cooksey, Himself, First Appeared In Las Vegas In 1968 On The Stage Of The Fremont Hotel And Went On To Have A Colorful Career In Entertainment, Broadcasting, Journalism And Education. Throughout Each Issue Of The Vegas Watchdog Daily News, You Are Bound To Catch A Few Scenes From Wild Bill's Illustrious Background. But Now He Has Saved The Most Fun For His Next Project...Telling The World About His Favorite City And Putting On A New Hat As Publisher And Senior Editor Of THE VEGAS WATCHDOG DAILY NEWS.
Be sure not to miss The VWD Exclusive On:
THE DEUCE MAY BE IN A "LOOSE-NOOSE" IN VEGAS
---
---
---
BELOW ARE TODAY'S SPONSORS FOR EACH OF THE 12 PM HOURS:
Just Click To Visit Each Sponsor's Web Page




Click Here To Read The Senior Editor's Latest Scoop On "Behind The Scenes In VEGAS"



November has been a great time to get things rolling with this new venture. The weather in Vegas is absolutely perfect with just a hint if coolness in the Fall air. Earlier and earlier the Christmas decorations come out each year. But the merchants only have about six weeks to make or break it financially. So it is best just to get into the Holiday Spirit. Maybe we all need a little perk up after all the unbelievable events of 2005. With Thanksgiving upon us, we all have so much to be grateful for and need to look forward to sharing our blessings with all those who did have a rough year. Let me be the first one to wish you and yours the most joyous Holiday Season ever! Let's all join together and make somebody else's day just a little bit brighter! Even just an unexpected "Thank You" to someone who has gone out of his or her way to be of service to you can make a real difference in how that person reacts to the next ten people encountered. Example A: Russell, a fine, hard-working cashier at the local WalMart on West Charleston,... CLICK HERE to continue reading Wild Bill's Behind The Scenes In Vegas Column....
Here is a special holiday gift for you!
THE VEGAS "HANDWRITING ANALYSIS & FACE READING"
BIOMETRIC PERSONALITY PROFILER
HAS A SPECIAL HOLIDAY GIFT JUST FOR YOU.....Click The Next Link Below
Breaking News!!!
THE VEGAS PROFILER IS A BIG HIT AT HOLIDAY PARTIES & SPECIAL EVENTS AS HE INTERACTS "ONE-TO-ONE" WITH EACH GUEST BY GIVING ENTERTAINING, VERBAL "MINI-PERSONALITY-ANALYSIS-REPORTS" EVALUATING FACIAL FEATURES & HANDWRITING SAMPLES.
Click Here To WIN A FREE HOUR Of Entertainment At Your Christmas Party When You Invite THE VEGAS PROFILER To Your Holiday Event.
CONTACT INFO: Call 702-254-6092
OR CLICK HERE TO SEND EMAIL