THE INTERNATIONAL SCHOOL
OF FOUNDATIONAL PHONICS
Presents
THE WORLD'S FIRST

We're in our seventh year of teaching students how to read

The International School of Foundational Phonics is happy to announce that there have been thousands of students enrolled worldwide during our three years on the Internet! Cooksey's original curriculum is currently being used as part of a 2 semester hour required course for teacher certification in a midwestern college, in public and private schools in the United States and Canada, as well as in a community school for adult professionals in Israel. But you don't have to be a teacher to teach. You just have to care for the student you wish to instruct. If you are serious, it will be important for you to follow all links on this page in order to be completely prepared to partake of the many rewards that may be gained from this Free Online Course.
BILL AND JANAE COOKSEY,
Founders and Directors
of The International School of Foundational Phonics Online
invite you to join our worldwide internet family
---
A SPECIAL THANK YOU
TO THE "MOM" OF TV'S BRADY BUNCH
We were so encouraged to recently receive an email about our Free Online Phonics Program from Florence Henderson, the most recognized Mom in TV History, spokesperson for many nationally known products and host of her own television talk show.

---
"Dear Janae,

I wish to congratulate you on a wonderful and worthwhile idea.

I would like to let you know that I think being able to read is the greatest gift of all. I came from a very large and poor family, and reading was always such a joy. I think that if you can read, you are never lonely and you can learn anything. I believe it is the most important tool you can have in your life, and I try to spread my love of reading around.

This past summer I had the pleasure of participating in the People Magazine Storytellers program at Target stores, where I read to young people. It was a wonderful experience, and so much fun to share my love of reading with others.

I wish you all the luck in the world.

Love,

Florence"

Here is a letter we received at the end of this summer from a mother who has a teenage daughter and a five year old son. She desired that both of them have the opportunity to be solidly founded in the basics of phonics. She is serious about using our course and refuses to let anything stop them.
Dear Janae,

Jenny, Chad and I have just finished week one of your phonics course. I taught the first lesson to both and then every day after Jenny repeated what was to be done with her brother. She had fun playing teacher and Chad enjoyed having a different teacher. They did very well with this and I have started on Lesson two this week. I printed the lesson out so Jenny would have time to study what games and songs she would do before actually doing them.

Chad has enjoyed them so much that last week after going to the emergency room (he cut his head on a cabinet and had to have 3 staples put in) he wanted to know if he and his sister could still do phonics when he got home. They were supposed to do their phonics lesson after he and his daddy returned from the church. Even after being in so much pain and messy excitement he had not forgotten his lesson and was very concerned that I would not let him do it. Of course, I did let him. Children recuperate so much quicker than we do anyway.

We will be going on vacation next month for one week. I intend on printing out what I need to take with us. They are having so much fun that I hate to make them miss it even on vacation.

Thank you for such a wonderful program.

Jenny and Chad's Mom

---

MOM HAS GREAT HOPES FOR HER LITTLE "BOY IN THE BUBBLE"

Dear Mr. & Mrs. Cooksey,

First of all, please let me say thank you in advance for considering my application for enrollment in your course. And secondly, I'd like to commend your faith for what you are doing to help people learn to read! What a NOBLE cause!

Please, if you will, inform me of any errors in my application so that I may reapply if necessary.

Since I am a heart patient, my husband is in remission from cancer and our little boy, Marvin, whom the course is for, has Hypogammaglobulinemia (somewhat similar to the classic "boy in the bubble"), I am not sure if I will be able to complete the lessons with Marvin in as timely a matter as you would like, but I am willing to do as much as possible as fast as possible. Marvin is very "hyper" and sometimes has a hard time sitting still and focusing, but if you will give me this chance, I will do everything in my power to complete the lessons.

My sincerest thanks!

Marietta Smythe
---
FAMOUS AMOS OF FAMOUS AMOS COOKIES IS TOTALLY IN SUPPORT OF FREE ONLINE PHONICS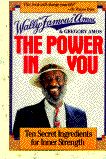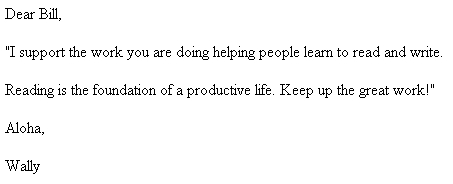 As founder of Famous Amos Cookies in 1975 and father of the gourmet chocolate chip cookie industry, Wally Amos has used his fame to support educational causes. Since 1979 he has been National Spokesman for Literacy Volunteers of America. He is also a Board Member of the National Center for Family Literacy and Communities in Schools.
---
MOM PROCLAIMS ONLINE PHONICS IS GOOD MEDICINE
I was just browsing thru the web and decided to look up phonics, because my daughter is having problems in school,and she says if I bought her hooked on phonics she would do better in school. I ran across this and read the letters from parents who have tried your lessons and I asked her if she thought this would be good for her and she got all excited that she would be able to read like the other kids in her 3rd grade classroom.
My child has been on medicine for 3 years for ADHD. Most of her teachers just ignored her and sat her to the back of the classroom and sent her homework home for me to do with her. But now she has entered 3rd grade and she says she is having a hard time with reading. That's when she saw phonics on television and she is hoping she will be at the level the other students are at reading by using phonics . She is also in speech class so we are hoping this will also help her out in her speech. I know this program will be good for her, because she is willing to do her best at this and I am willing to do my best with her.

Thank you
Mom

THREE WEEKS LATER HERE'S WHAT MOM HAD TO REPORT
MOM GASPS AS DAUGHTER SITS STILL!
MY DAUGHTER IS HAVING A REALLY GOOD TIME AT DOING THIS.

I HAVEN'T SEEN HER SIT AT ONE SPOT THIS LONG WITHOUT ANY MEDICINE TO CONTROL HER.

THIS HAS REALLY CAUGHT HER ATTENTION AND SHE IS HAVING A BLAST! (ME TOO.)

I AM SO GLAD I FOUND YOU WONDERFUL PEOPLE!! THANK YOU SO MUCH.

THANK YOU AGAIN,
"ONE HAPPY MOM"

---

THIS LADY'S CHILD HAD TO BE DRAGGED TO THE CLASSROOM FOR LESSONS UNTIL NOW

Hi there!

I couldn't remember the exact date that we had enrolled Collins....I am sorry if this is a little late.

We have been so busy with the lessons we have hardly noticed the calendar!! I am SOOOOOO excited about this program!

Collins enjoys the songs and activities SO much! I just can't believe he is the same child! Before, he would DRAG himself to the classroom ( renovated basement!! LOL ) to do his studies...now he races me there! The first thing he asks everyday is " do we getta learn letters today mom?? "

Thanks so much for the lessons...and for providing me with the knowledge that I need to TEACH him what he needs to know !

Sincerely, Sonya

---

"WE DON'T HAVE MUCH BUT BY THE GRACE OF GOD WE ALWAYS SEEM TO MAKE IT."

Thank you so much for getting back to me. I want to let you know that I think your program is wonderful!! I have read thru the first 2 weeks and it looks like it is going to work out great. Anything that makes it fun surely keeps them interested for a long time. Thank you so much for providing this program. Being a homeschooler with 3 kids......and #4 due in 4 more weeks it is nice to know there are people out there who are willing to share their ideas without such high costs. We don't have much, but by the Grace of God we always seem to make it.

Thank you again.

Marianna

---

THIS LADY SAYS THAT OUR UNIQUE ENROLLMENT APPLICATION PROCESS IS JUST LIKE A TREASURE HUNT.

Dear Bill & Janae,

THANK YOU for such an ENCOURAGING letter! I'm so excited about this! I can only HOPE and PRAY that Charlie will be! I'm going to try to check out some of the site tonight when I can get him to sleep. He doesn't sleep well at all, so we may be working very late at night sometimes.

From what I was reading on the website before I sent in the application, I think this is going to be PERFECT for Charlie! It sounds as if you start at the very beginning sounds and letters, which I feel is exactly what he needs! In fact, I couldn't agree with you more that it is what ALL people who are trying to learn to read need.

May God bless you both RICHLY and many times over for doing such a wonderful thing for the public!

I know without a doubt that the two of you must have faced many hardships throughout life. It is only by enduring hard times that you can TRULY know God's awesome power and love. And from it comes the grace to do things such as what you're doing.

One more quick thing before I close.........I wanted to tell you how NEAT the enrollment process is! It was sort of like being on a treasure hunt. And for a service as great as what you're supplying for FREE, I think it's a MUST that you do that! Like you said, it does tell you a lot about whether a person is really sincere and interested in doing this.

I look forward to the weeks ahead. Again, I send you my utmost respect and humble appreciation!

Charlene

---
HERE IS A WONDERFUL TESTIMONY
FROM A DEDICATED PUBLIC SCHOOL TEACHER
WHO HAS BEEN USING THIS ONLINE COURSE
FOR HER STUDENTS SINCE MAY OF 1998
Nederland Independent School District
C. O. Wilson Middle School
220 17th Street
Nederland, Texas 77617

Gary Tiner, Principal

June 17, 1999
The International School of Foundational Phonics
P.O. Box 81173
Las Vegas, Nevada 89180-1173 USA

Attention: Bill and Janae Cooksey

Dear Mr. and Mrs. Cooksey:

I would like to write a few words to express my appreciation to you and your company for allowing me to use your program with my students. I am not sure at this point just how I located you and your program, but let me say how grateful I am.

I wrote to you in May of 1998, asking permission to use your material in a remedial reading class I was teaching in our summer session. You allowed me the privilege and experience of using an intensive phonics program for the first time although I had taught school for thirty plus years. My slow readers made gains of one to several years in word attack skills, which provided a basis for them to be able to decode their assignments. Initially the exercises were "too easy" which provided them with success. On days that I didn't totally complete lessons, students began to ask why; this in itself was a plus factor as these were almost nonreaders who had been in public school for five to seven years. Their favorite exercises were "Reading with Janae." This became our daily drill selecting different passages each time. I even sent home part of one of the exercises allowing the opportunity for the parents to interact with their children.

During the 1998-1999 school year you allowed me the use of your program once again as I had some underachievers and poor readers. Although I didn't use the program daily as I had in summer school, I did use it regularly three days a week. The students demonstrated success.

Now it is summer time again and our annual summer session is almost ending its third week. Perhaps my enthusiasm for your program is contagious among the students, but both classes are eager to get the other exercises behind them as they want to "get on" with their 'Phonics Drill,' their term for our daily work.

I just wanted to thank you one more time for allowing me the privilege of using your online phonics lessons and allowing me the freedom to adjust the lessons to the ability level of my classes. If I could select the favorite exercise of my fifth grade students, it would be the "Reading with Janae" sections followed by the various songs. All children love to sing, and singing songs that will teach, as well as entertain them, is a plus factor.


Sincerely,

Elizabeth Curtis
5th Grade Teacher


---
Here is part of an enrollment letter we received recently
from a concerned Mother about her son's problems:


Dear Bill and Janae,
My son has had problems with learning to read. Public schools have no time or desire to take the extra effort he needs. That's why I am taking the time & effort. We need all the help we can get. He knows his alphabet and can write the letters. We need reading help though.
Can you help us?

Then in only a few weeks we received this report from the Mom.


My son and I are enjoying your program immensely.
He is not only learning but it gives us a chance for quality time together uninterrupted.

Thanks again.
A Mom From Georgia

---
WE ARE SO HAPPY TO RECEIVE REPORTS LIKE THIS ONE THAT
TELLS OF OUR PROGRAM BEING USED TO HELP STUDENTS LEARN
TO READ IN SCHOOLS AND HOMES ALL OVER THIS WHOLE WIDE WORLD.
Dear Bill and Janae,

I've downloaded the lessons and will be going through them this week.
I will need some time to work out how to incorporate the programme into our school schedule as we have a syllabus to complete.
Alternatively, I'll do it with the students only from next year.
Our academic year here in Malaysia is from January - November.
I will keep you informed.
I'm thankful to God that you're willing to share your programme at no cost so that many may learn to read.
God bless.
Regards,
A Veteran School Teacher in Malaysia

---
MOM SAYS THE WHOLE PROGRAM IS LIKE A GAME TO HER CHILD
I hope I haven't missed my fourteen day deadline for the progress report. When I began the program I waited for the coming Monday to begin, so I could follow the laid out schedule you suggested.
I am on my second week and have decided to stay on the first lesson for another week. My daughter really likes the program! I'll say "program" even though she just thinks we are having a good time. I also enjoy the program but the reason I am staying on the first lesson is because I feel she hasn't grasped the ABC's as completely as she should to move forward.
The games are her favorite, and actually, the whole program is like a game to a child. The only thing I had to change was the A story, she said it made her sad when we ate the apple! So we had fun making new stories for all the letters. She loves Cee Cee though, so we kept Cee Cee like she was, red toe nails and all.
Blind man's bluff is her strong point, she can nail every one on the first try. Oddly enough though, when the mask comes off she has trouble with identification of the letters. Any suggestions would be greatly appreciated.....
I wish saying thank you would express my gratitude for what you have offered through all your hard work, but it will never cover how much I appreciate what you have done, nevertheless! Thank you from my heart and God bless you and your family.
---
RUB-A-DUB-DUB.........LET'S SING PHONICS SONGS IN THE TUB! Bill and Janae,
I'm sorry but I think its been more than 2 weeks since my last update. My daughter and I have slowly been plugging away. She enjoys the songs. Also she decided to draw pictures for all the flashcards. We are about halfway through the alphabet. She is getting good and thinking up words that use the sounds of each letter.
I wish I had more time to spend with her on this. Its hard working full-time, come home cook dinner, help her with homework, and then try and squeeze a few minutes of the phonics study. To save some time, I thought we would do the songs during bathtime. I'll let you know how that works out.
Aloha,
From Hawaii With Love
---
MY SON HAS A "NEW" ATTITUDE Hi There Bill & Janae,
Just a little update on my son . He is doing just great. He is even showing improvement in his school work and attitude too.
Thank you for your kindness.
In Christ Alone,
Natalie~ :)
---
BOBBY IS NOW SOUNDING OUT WORDS ON HIS OWN
Dear Bill and Janae,
Bobby is doing well. Catching on to his reading really well. I want to thank you for this lovely program. I can see a big improvement in his reading. He is now taking books and sounding out more words on his own and is doing very well.
Thank you again for such a wonderful program. Thank you also for all your hard work and time that it has taken you to put this program together.
I hope that Bobby will continue his success with his reading. I am sure that he will. Thank you again.
Sincerely,
"Mom"
---
NOW DJ WILL BE ABLE TO LEARN BY BRAILLE
Hi, I can't believe how fast the weeks are going. Six weeks ago we had two little boys that were all boy. They both love to run and play, they love following their fathers around doing the things little boys do.
Both boys had little desire to learn how to read. Melvin was afraid that it would make him grow up too fast and Donnie really never even thought about it. Now we have two little boys that run around singing songs, showing us letters that they have printed and telling us all the stories. It has been great.
We are looking forward to the weeks to come and so are they. They have a desire to put the letters into words and are very excited at the thought of reading their own stories at bedtime. Thank you very much to putting this program together so that we were able to change their lives.
Both boys can print and recognize all the letters now and have started to learn the vowel sounds and even have a lot of the other letter sounds. DJ's cornea is now 90% clear, which is great. Our doctor told us that it could clear 100%, but 90% was considered a good cornea. DJ, not yet three, has been learning his letters by sight with the boys. His therapists are in awe at how well he is doing.
DJ started talking at about 4 months, he has a memory that is unreal. One of his favorite books is "Are You a Bullfrog?" He read it for one of his therapists the other day word for word. Of course it was by memory. He loves all the stories in the phonics lessons and listens intently during story time.
He will be starting a daily Braille course right after we finish your course, hopefully we will be able to teach his older brother also. Thanks again and we'll let you know how their doing again in two weeks.
---
---
IF YOU DON'T BELIEVE IN MIRACLES, READ THIS!
We received this enrollment a few months ago.
The Mother wrote:
Here is our daughter's information:
Linda has Down Syndrome and was in the Public School System since Preschool...She never learned to read...it was just fun coloring time....
We just received this progress report last week from the Mom.
Since registering with your program: Linda has learned all the sounds for the letters in the alphabet....her handwriting is hampered a bit because of low muscle tone, but she can make the letters~there is some confusion with lower case d and b and p. She can match up about 85 percent of upper and lower case letters. She also knows the short vowel sounds (lesson six). We have been hovering around lesson six and seven for quite a while~ Linda works very slowly, but she does learn! The repetition and constant daily work help keep her fresh. I can tell if we miss a day she needs more review.
She had surgery this fall and had had a few infections, including some ear infections...this has hampered auditory discrimination on the b, p,t,d sounds, BUT even with all this she has come so far since this past summer, when she could not even recognize letters, except for capital A!!!
Thank you so much!
Sheila Spencer
and Linda



It's NOT TOO LATE for you to enroll!
PHONICS CLASSES HAVE ALREADY BEGUN RIGHT HERE ON THE INTERNET 24 HOURS A DAY!
HELP SOMEONE ELSE LEARN TO READ FREE!!
---
BUT HOW DO I ACCESS THE LESSONS?
The table of contents with inactive links shows only how the course is to be accessed from the table menu on this "sample" web page when connected to the internet.
We provide lesson plans, activities, games and songs to the supervisor from another table menu page that looks the same as the table of contents except the links will be active. The URL for this is sent to you in email once the enrollment application is received.
The student and the supervisor will function best if both are in the same location at the same computer during each of the daily lessons presented by the supervisor. The supervisor will need to prepare the lessons ahead.
The tests will be sent to the supervisor for administering to the student after the entire 12 lessons have been completed. If you read the instructions given to the supervisor, you will find that each of the 12 lessons is to be followed for one week. Therefore, the tests may be obtained after a three month period. All other material is available for you to prepare and present directly from the web page that contains the table menu for all of Step One. It does require the supervisor to read thoroughly all of the instructions before daily teaching the student. And of course, we are just an email away if you encounter any difficulties or need any other guidance.
You will have complete access to all the parts of all twelve lessons from the table menu on the webpage sent to you after enrollment. Simply click on each of the links in each of the table squares to reach the web pages with information about how, when and what to teach your student. Again, the student and supervisor should be together at the computer during each daily lesson unless the student is a very young child. However, we have had some supervisors print out the lessons for convenience to use when travelling or in a different location, as well as for use in the home or classroom. To see our table of contents for Step One of our online course
PLEASE CLICK HERE

Free online phonics classes is NOT an independent computer course where the student sits by the computer and interacts with software programs. Instead, we offer online classes to be taught by a supervisor who sits with the student and spends time using our proven methods. We teach the supervisor how to instruct the student and the lessons presented are for the supervisor to learn and use in a home or classroom setting.


Special Note:
We reserve the right to refuse our program to anyone who, upon enrolling, expresses an attitude which we feel would not be helpful in administering our program.


TO ENROLL A NEW STUDENT IN STEP ONE OF OUR FREE ONLINE PHONICS PROGRAM, PLEASE CLICK HERE

IF YOU ARE ALREADY ENROLLED, PLEASE CLICK HERE.
Please visit our free online phonics educational store. We have thousands of school supplies in many different categories. The prices are very competitive and you help to keep our classes free by your purchases.
Please click the following link to visit our store: http://schoolbooks.vstorehome.com/
Since 01-09-97