CARICATURES AND ENTERTAINMENT
Just ask an executive who recently used THE COOKSEYS for four days straight at the Las Vegas Convention Center during The International Snow Sports Convention:
Dear Bill and Janae,
Thanks for everything. You both were terrific! There was no shortage of comments from both our peers and clientele which means that we were successful in making our booth a strong presence at the show. I am especially grateful to you both for helping make this so successful.
Perry Gladstone, President
Limited Snowboards Inc.
OKAY, SO WHAT DO THE COOKSEYS DO?

Those Crazy Cookseys love to team up at Las Vegas CONVENTIONS, Hotels and SPECIAL EVENTS to create their hilarious "CARICATURE-CARTOONS" for very special people. With Janae's quick sketching style and Wild Bill's clever customized gags, everyone gets a personalized souvenir keepsake that will be a forever reminder of laughter and fun. Whether they are performing at a business promotion in a car dealership showroom, at a private birthday or holiday party, or at the Las Vegas Convention Center, this entertaining duo adds the type of merriment and ambiance to any occasion that will have the guests happily reminiscing for years to come.
Wild Bill and Janae have performed with one or more of their entertainment talents (Music, Comedy and Caricatures) at the following locations:
LAS VEGAS, NEVADA:
The Rio, Stardust, Ballys, Sahara, Flamingo Hilton, Monte Carlo, Stratosphere, Rivera, Marina, Dunes, MGM Grand, Peppermill, Alexis Park, Landmark, Fremont, Silverbird, LV Hilton, Frontier, Sands, Caesars Palace, Tropicana, Circus Circus, Golden Nugget, Silver city Casino, Holiday Inn Boardwalk, Vegas World, Aladdin, Alpine Village, Silver Slipper, Union Plaza, Royal Casino, Nevada Palace and THE LAS VEGAS CONVENTION CENTER
BY SPECIAL REQUEST:
The COOKSEYS will provide
E L V I S S S
The King of the Comedy Fortune Tellers
to entertain your guests in a hilarious one on one presentation reading of Carrot Cards, Elvistrology and Mental Madness.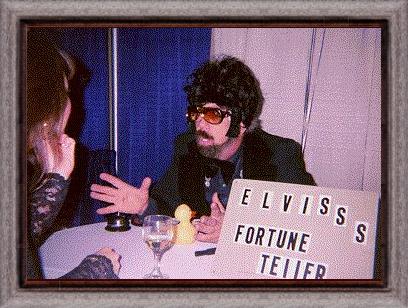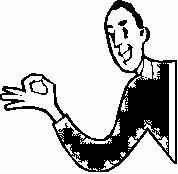 Want to book Elvisss for your special event or convention? It's easy! It's a must! Everybody loves Elvisss!
Wanna book Elvisss? Click here!
CLICK HERE To see Wild Bill: Musical Comic and Las Vegas' most Outlandish Stage Performer
Return to the CARICATURE-ENTERTAINMENT PAGE
Call (702) 387-2343
Pager (702) 660-8087
Email: TVartist@usa.com