FROM THE UNITED STATES SENATE MAJORITY LEADER, HARRY REID
I appreciate you sharing your song with me.
Please be assured that I will continue to use my
leadership position to strengthen Nevada and the nation.
My best wishes to you.
Sincerely,
HARRY REID
United States Senator

---
To Hear A Entire Song Senator Reid Was Speaking About And That Plays Behind the Video On The Web About The Perfect Choice For Our Next President, Please Click Here!
---
SENATOR BARACK OBAMA GRAPHOLOGY REPORT
Prepared By Cooksey & Associates
---
DISCLAIMER: This report is entirely based upon several samples of SENATOR OBAMA'S signature and therefore describes his public image. Senator Obama's private personality may be different, and pages of text samples would be needed to make this a complete assessment. This interpretive analysis is totally intended for entertainment and educational purposes only and is not in any way intended to proclaim the accuracy of Senator Obama's personality and behavior traits based solely on the signature given for appraisal. Obviously many more samples, as well as pages of personal text handwriting, would be needed to make this a thorough, accurate report.

Use This Color Chart For Graph Evaluation
Unless Another Color Chart Is Provided

---

---
SENATOR BARACK OBAMA GRAPHOLOGY REPORT
---
---
THE REPORTS
ARE BASED COMPLETELY ON SUBJECT'S REGULAR HANDWRITING
REVEALS THE PERSONAL, INWARD CHARACTERISTICS AND TRAITS
---
SENATOR OBAMA'S SIGNATURE REPORT
"HOW THE SENATOR'S ACTIONS ARE PERCEIVED BY THOSE WHO KNOW HIM IN THE WORK PLACE"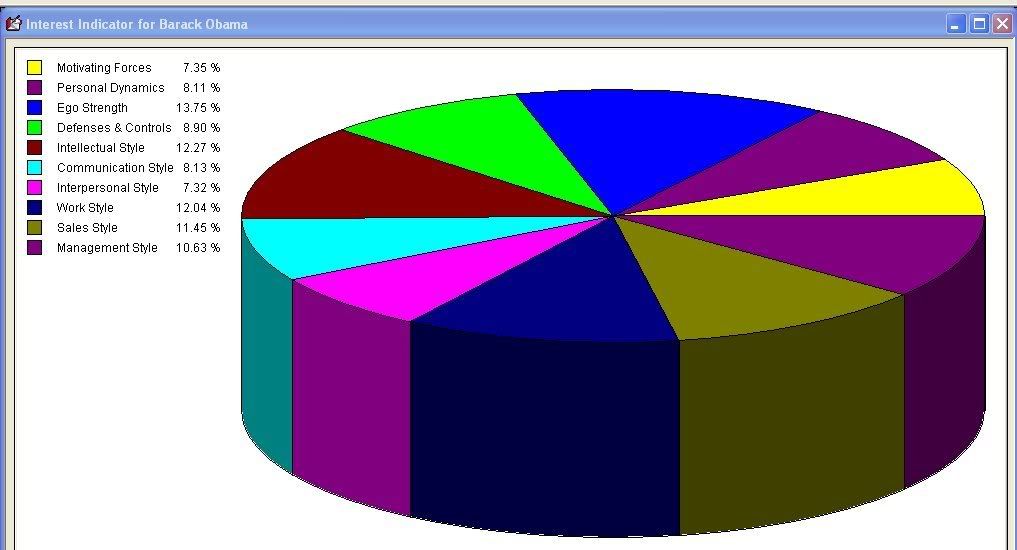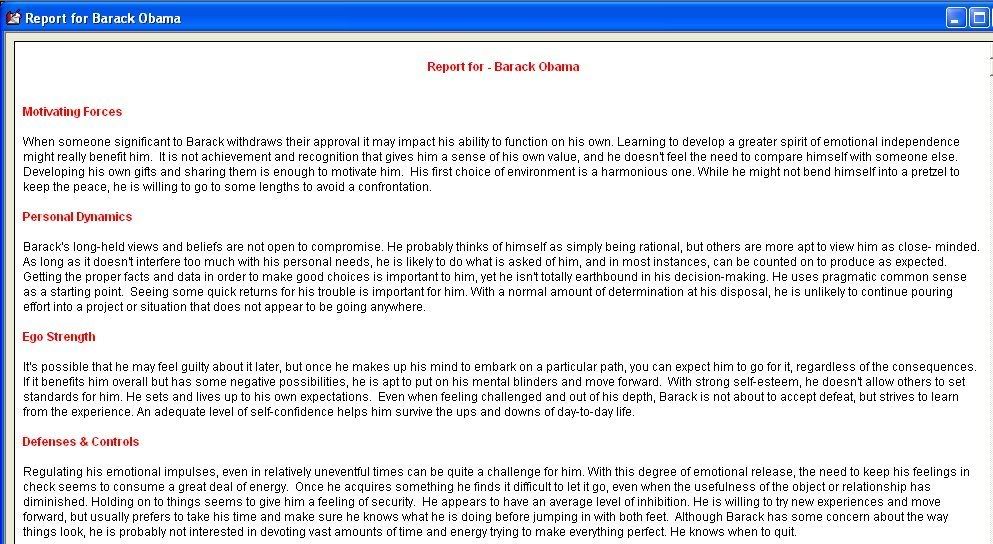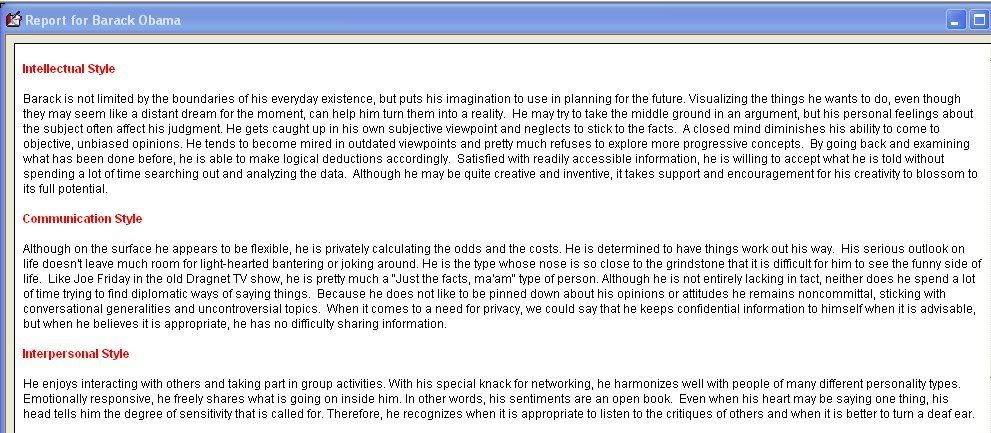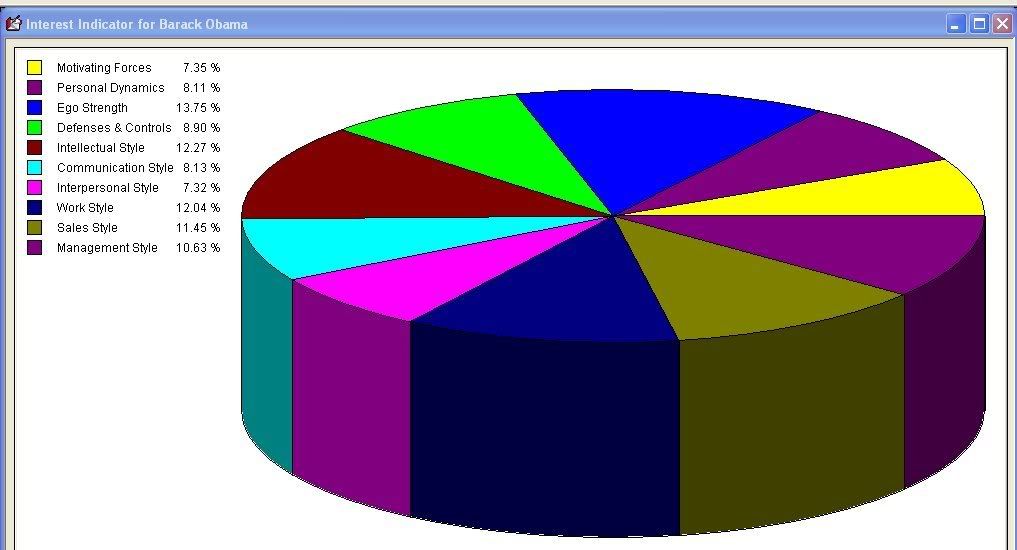 ---
---
Click the mailbox

to email us about preparing a SPECIAL REPORT For You
See More Graphology Reports For Donald Trump, Rosie O'Donnell, The American Idol Judges, Martha Stewart, Jay Leno, Britney Spears And Others At HandwritingUSA.com
---
---
HandwritingUSA.com

JUST IN TIME FOR INTERACTIVE FUN AND ENTERTAINMENT AT TRADE SHOWS, CONVENTIONS, SEMINARS & PARTIES :
Contact Las Vegas' Most Entertaining HANDWRITING ANALYST at 702-254-6092 Or EMAIL Him By Clicking Here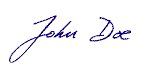 # 1. Write Your Signature, # 2. Print Your Name & # 3. Prepare To Be Amazed!


THE HANDWRITING PROFESSOR IS MAKING HOUSE CALLS
What Does Your SIGNATURE Reveal To The World About
WHO YOU REALLY ARE And What Makes You TICK ?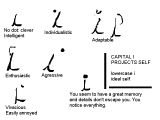 Call 702-254-6092...TO FIND OUT ALL YOU HAVE TO DO IS...www.handwritingusa.com
INVITE COOKSEY TO YOUR NEXT PARTY OR SPECIAL EVENT


Handwriting Analysis: Personal & Business, Fun Comparisons, Live Entertainment at Tradeshows & Parties
Click Here For The Only Combination Handwriting Analysis & Facial Features Diagnostics Entertainment Presentation In Las Vegas: VegasProfiler.com

---

---
Welcome To
HANDWRITINGUSA.COM

---
"Cooksey & Associates Want To Say A Special 'THANK YOU' To All The Guests Of The Recent Cisco Systems Executives' Party At The Bellagio Hotel! I Stayed The Extra Three Hours Because You Guys Were Having Way Too Much Fun For Me To Leave Just Because My Contract Time Was Up,"...Your Analyst For The Night Was The Founder Of Cooksey & Associates, aka Professor. Bill
"Thank you, Cooksey & Associates, for making our three day seminar a great success. All of our guests enjoyed you so much and you made the weekend very special with your outstanding handwriting analyses and personality profiles."
Meeting Coordinator, Nevada's Largest Private Law Firm
Handwriting Analysis: Personal & Business, Fun Comparisons, Live Entertainment at Tradeshows & Parties

---
Click the mailbox

to email us about preparing a SPECIAL REPORT For You

See More Graphology Reports For Martha Stewart, Jay Leno, Britney Spears And Others At HandwritingUSA.com
---