Caricature Artists and Handwriting Analysis for Las Vegas Tradeshows and Conventions, Hospitality Suites, Seminars, Banquets, Bar and Bat Mitzvahs, Speaking Engagements, Company Picnics, Celebrity Celebrations, Retail Promotions, Family Reunions, Holiday Gatherings, Charity Bazaars, Weddings, Birthdays and Anniversaries, and more
We Invite You To Visit Our Other Entertainment Websites At wildbillusa.com, handwritingusa.com, vegaswatchdog.com
Click Here For:
Las Vegas' Most Complete Professional
BIOMETRIC PERSONALITY PROFILER
Scientifically and Statistically Revealing Behaviorial Strengths and Weaknesses
IF YOU RECEIVED A "MINI-FACE READING REPORT" By Email, Fax Or In A Live Presentation, Click Here And Then Click The Link On The Next Webpage That Features The Words FACIAL FEATURES DIAGNOSTICS. You Will Be Able To Then Decode The Letters And Numbers Given In Your Report That Will Reveal Your Personality Characteristics And Traits That Tell The World "WHO YOU REALLY ARE"!
For An Excellent Traffic Generator At Your Trade Show Booth, Click Here To Book Las Vegas's # 1 Handwriting Analysis Experts Order Your Own Handwriting Analysis Report Complete With Color Graphs By Going To handwritingusa.com Today !
---
---
Welcome To
VEGASARTIST.COM
Presented By

For Your Most Successful Event Ever
It's Time To Book
Las Vegas Award-Winning Caricature Artists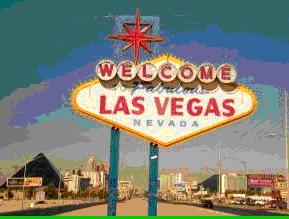 VEGASARTIST.COM
For Fantastic Las Vegas Entertainment
You Can Take To The $BANK$ !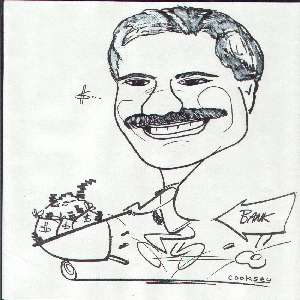 CARICATURES__SIGHT GAGS__LOTS OF LAFFS!
Caricature Entertainment Makes Everybody HAPPY!
To Contact Us About Availability And Fees
Call 702-254-6092 Or CLick On The Mailbox To Send Email


"You Need Professional Las Vegas"
SHOW STOPPER ENTERTAINMENT
For Your Trade Show, Convention,
Party or Special Event
SPECIAL THANK YOU to all the wonderful Las Vegas visitors and locals who came to see the Featured Cooksey & Associates Artist at the special month long engagement in Caesar's Palace at the Cafe Lago Weekend Champagne Brunch, to the attendees of the Vacation.com Gala at Caesars for travel agencies representing over 100,000 travel professionals worldwide and to all those 4000 wonderful IBM guests VegasArtist.com performers entertained with their comedy and caricatures at the MGM Grand Theme Park Spectacular!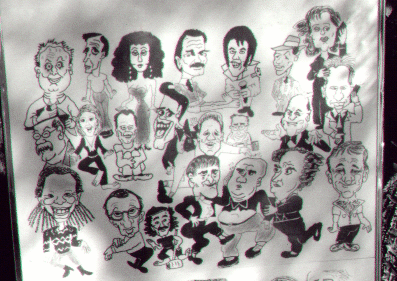 Click the goose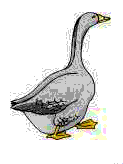 to email Cooksey & Associates.
Please include CARICATURES as the subject in your email.
If we happen to be out of town on a job, email may be your best way to initially contact us.
But first give us a call at 702-254-6092, so we can try to immediately reserve the date and time of your event on our schedule.
Las Vegas CARICATURE ARTISTS- Show-Stoppers!
Cooksey & Associates,
Serving Las Vegas Since 1986 With Professional, Award-Winning Caricature Entertainment
CONVENTIONS, TRADE SHOWS AND PARTIES
The VegasArtist.com Caricaturists not only DRAW the faces but they DRAW the crowd!

SHOW-STOPPER
CARICATURE-ENTERTAINMENT
CUSTOMIZED JUST FOR YOUR GUESTS
Our Artists perform alone or together as a SHOW STOPPER CARICATURE ENTERTAINMENT ACT dressed in formal attire or flamboyant costume. Cooksey & Associates Artists create hilarious caricatures while interacting spontaneously with the people who gather around the performance area, creating lots of laughter and fun participation. This format is especially effective at trade shows, conventions, parties, hospitality suites and special events.
COOKSEY & ASSOCIATES
are
TRADE SHOW SPECIALISTS
"We Generate Traffic To Your Booth!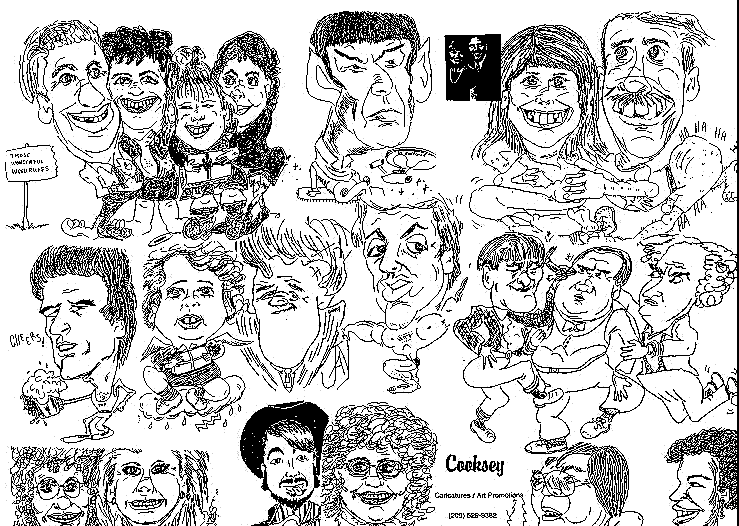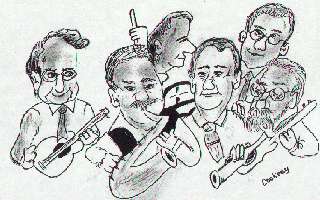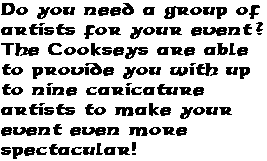 WHEN OTHER ARTISTS ENTERTAIN YOUR GUESTS WITH THEIR TALENTS, YOUR GUESTS ONLY GO HOME WITH A PICTURE.
WHEN THE COOKSEY & ASSOCIATES ARTISTS ENTERTAIN, YOUR GUESTS ARE TREATED TO THE UNFORGETTABLE "EXPERIENCE" OF A LIFETIME AND GO HOME WITH A CHERISHED PICTURE THAT WILL FOREVER REMIND THEM OF ALL THE FUN AND LAUGHTER THEY HAD AT "YOUR" EVENT.
Which of the above do you think your guests would enjoy the most?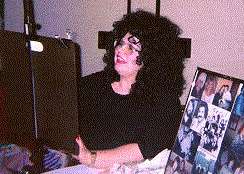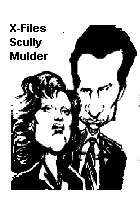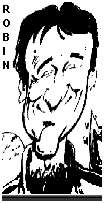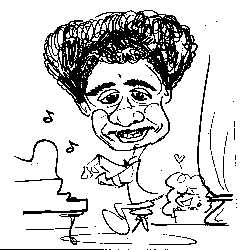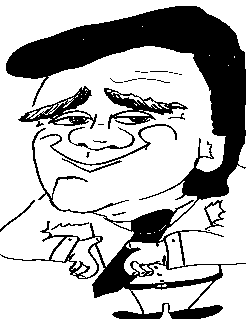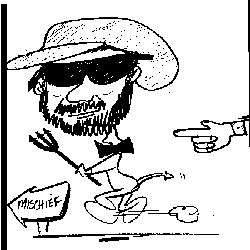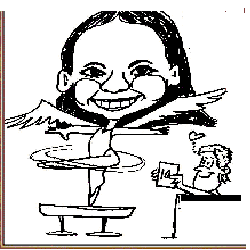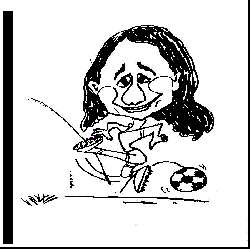 ASK ABOUT THIS MONTH'S $ SPECIAL $ PROMOTIONAL PRICES
Click the goose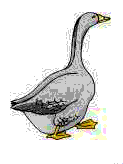 to email Cooksey & Associates Today.
Please include CARICATURES as the subject in your email.
We may be on a job out of town so email is the best way to initially contact us.
CARICATURE ARTISTS OF THE STARS
Cooksey & Associates artwork is owned by Stars like Jay Leno, Lou Rawls, Tom Jones, Dottie West, Jenny Jones, Della Reese, Florence Henderson, Frank Sinatra, Red Skelton, Jackie Mason, Gallagher and a host of other famous celebrities.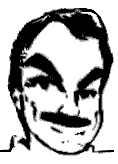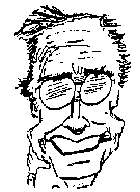 ---
---
We Also Can Provide Even More Las Vegas Entertainment Acts For Your Corporate Or Private Events. Contact Us Today
For MUSIC - COMEDY - SPECIALTY ACTS


To Contact Us About Availability And Fees
Call 702-254-6092 Or


CLICK THE MAILBOX TO SEND EMAIL
TO BOOK THE MOST FANTASTIC GUINNESS BOOK WORLD RECORD BREAKING LAS VEGAS MUSIC AND COMEDY PERFORMER GUARANTEED TO MAKE YOUR SPECIAL EVENT SIZZLE, CLICK HERE!
Besides being one of America's most entertaining "caricature-cartoonists", VegasArtist.com's Wild Bill Cooksey also has the First and Only Combination Handwriting Analysis and Face Reading Act in Las Vegas.
Learn why Wild Bill is so popular at parties, conventions and special events as he entertains guests by revealing characteristics and trait tendencies scientifically and statistically associated with handwriting and facial features.


An Absolutely Amazing and Delightful Fun Experience for All



CLICK HERE FOR WILD BILL COOKSEY'S COMEDY AND MUSIC CONCERT STAGE ACT, SHOW-BIZ BIOGRAPHY AND HIS LATEST "4 IN 1" MOBILE ENTERTAINMENT PRESENTATION OF CARTOONS, BALLOONS, HANDWRITING ANALYSIS AND FACIAL FEATURES DIAGNOSTICS
RETURN TO MENU